GAINESVILLE, Fla. — The University of Florida (UF) on Wednesday announced a $5 million gift from Citadel Founder and CEO Ken Griffin to drive the expansion of its K–12 computer science education program. Maya Israel, associate professor of educational technology, will lead a team of researchers and teacher educators in building both a face-to-face and an online community of practice for teacher preparation and expanding computer science education across the state of Florida.
"Education is the most powerful solution we have to enable future generations of students and teachers to realize their potential," Griffin said. "Computer science is central to our economy, and initiatives like CSforED are vital in preparing our country's teachers with the skills and education they need to help our students seize on the opportunities ahead."  
Griffin's gift is part of a larger initiative focused on increasing access to high-quality computer science education across the United States and is one of four gifts that CSforAll, a central resource for individuals and organizations interested in K-12 computer science education, announced at the DEI Innovation Summit presented by Snap, Inc. on November 3.
The national philanthropic investments made by both individuals and corporations total $20 million and represent the next phase of CSforED – a CSforAll program that raises awareness of the need for computer science in teacher preparation and to build capacity in schools and colleges of education.
 "This investment in the University of Florida will solidify the national leadership work UF is already engaged in and create an opportunity for Florida teachers and students to be best prepared for our current digital workforce and economy," said Leigh Ann DeLyser, co-founder and executive director of CSforALL.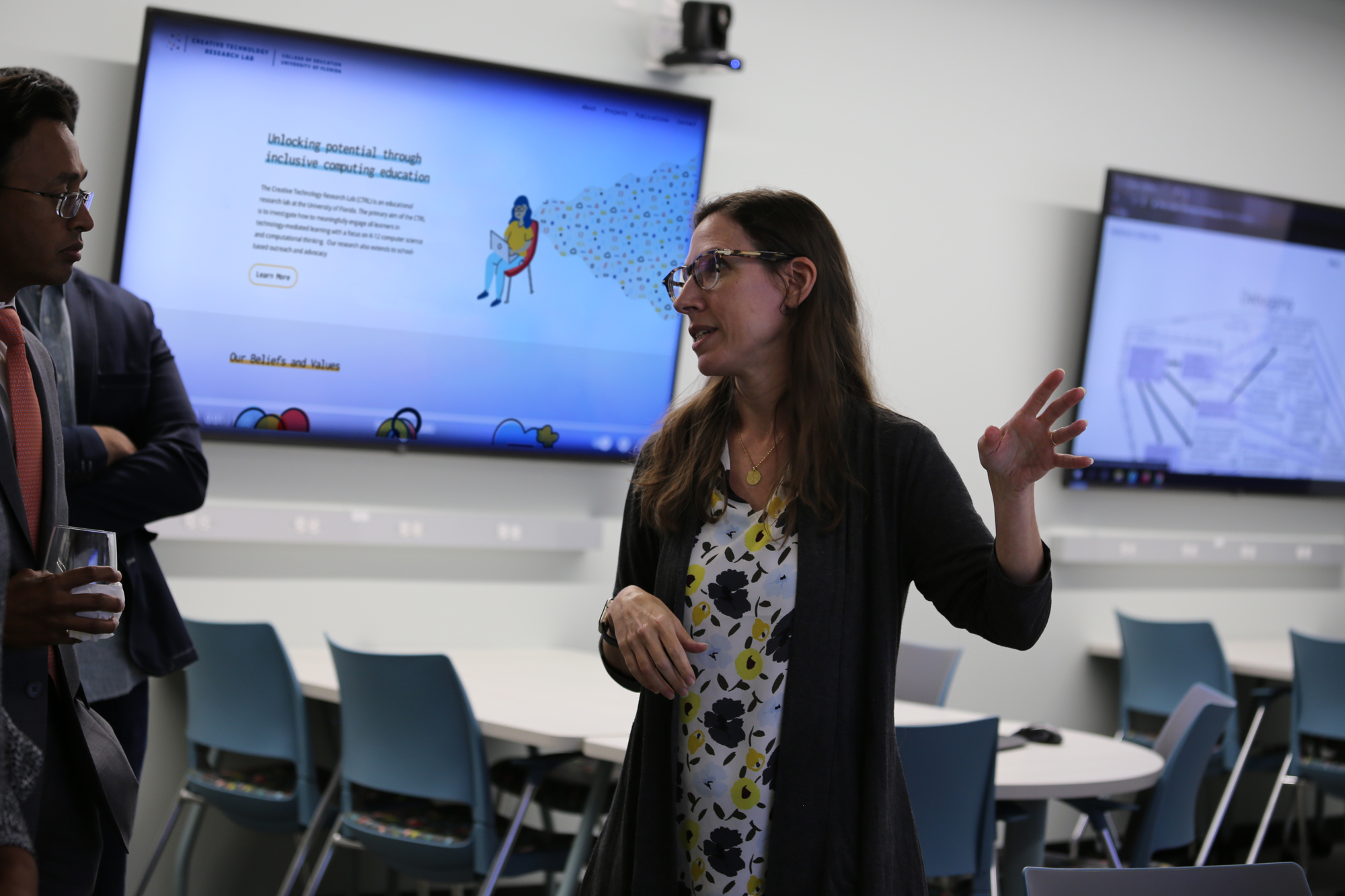 Maya Israel speaking to stakeholders at the 2021 Board of Trustees event.
With a proven track record of effective teacher preparation, along with research and programs focused on computer science education, state-wide reach and renowned faculty in its Institute of Advanced Learning Technologies, UF is uniquely positioned to expand computer science education across the state of Florida. 
Building upon existing efforts around teacher development and computer science inclusion, Israel noted this gift "will allow us to bring computer science into teacher preparation at scale." The team will work toward integrating computer science into math, science, literacy and other disciplines to address the diverse needs of students in Florida classrooms and strengthen the state's workforce. 
"Dr. Maya Israel is creating solutions for challenges faced by teachers and students in K–12 settings," said Glenn Good, dean of the UF College of Education. "In addition to increasing equity and access, this transformative gift will help students develop the skills needed for the workforce of the future."
The initiative will launch immediately and will follow a phased rollout over the next five years. Israel and her team will begin by bringing together researchers and teacher educators at UF and computer science education leaders from across the state to develop a coordinated vision for computer science teacher preparation before scaling up. To accomplish educator objectives, the team will engage stakeholders and expand advocacy efforts across the state, with organizations such as northeast Florida's STEM2 Hub. 
"We join the University of Florida in celebrating this major gift, which will allow stakeholders to transform the landscape for computer science education across our state through teacher education," said Kathleen Schofield, executive director of STEM2 Hub. "By empowering educators with knowledge and skills, we will build capacity to reach students across the state and equip them with foundational computer science skills they will need, leading to full participation in the growing technology sector and economic prosperity."
The final phase of the implementation will focus on ensuring the long-term sustainability of the initiative and evaluating the model's viability as a best-practice approach for computer science education across the country. 
With the shortage of computer science teachers being identified as a major issue in the recent Action to Catalyze Tech (ACT) Report, Israel states "we must prepare teachers to have both the technical skills and instructional practices to reach all learners."